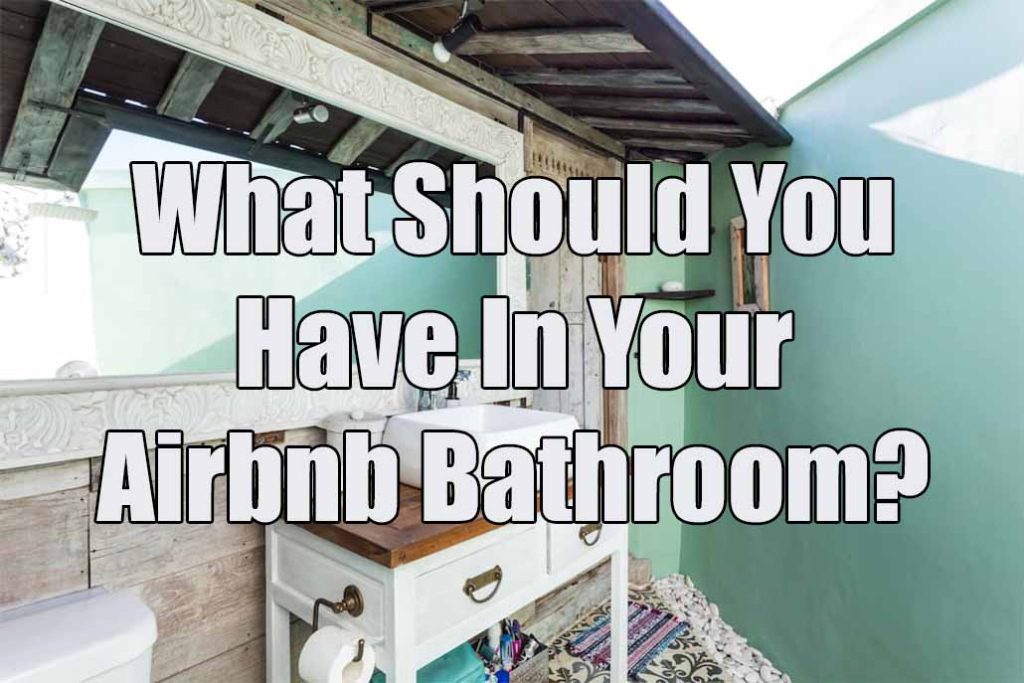 What hosts offer in their Airbnb bathroom greatly depends on the nightly price and country. In some cities like New York, a large bathroom is too expensive and for others, sewer systems may be underdeveloped leading to backups.
Every Airbnb bathroom should have most of the basics including toilet paper, towels, hand soap, a place to hang clothes/towels, shampoo, bathroom floor mat, and a trash can. The main factors when designing your Airbnb bathroom is the size, layout, and location.
Normally the size of an Airbnb bathroom is limited which means thoughtful planning goes a long way. Furthermore, a well-designed bathroom will stand out more than any other room in your Airbnb listing.
In this article, we will help you set up the perfect Airbnb bathroom and more. Let's get started.
---
What Are Airbnb Bathroom Basics?
---
Toilet Paper On A Dispenser

Most guests won't notice what brand of toilet paper you have but do notice when they run out. If your guests are staying for a week or longer supply extra toilet paper and mention you have more if they need it.
Our rule of thumb is to supply one roll of toilet paper per guest for every two nights. For any extra toilet paper rolls, we either stack them on a shelf above the toilet or use a roll holder/dispenser combination that holds up to two extra rolls. Furthermore, buying in bulk or on sale is a great way to get high-quality toilet paper for your guests.
---
Towels For Each Airbnb Guest
We stock all our Airbnb properties with two bath towels, one hand towel, and one washcloth per guest. For longer stays, store extra towels wherever you have space. We always install a shelf above the toilet and place our extra towels there. Another option is neatly rolling your towels up and placing them in a basket. If you want more details on towels, then check out our full blog post on Airbnb towels. Remember, if you live near a beach then provide a full-sized beach towel.

---
Hand Soap – Scented and Unscented
We have had complaints about guests being allergic to chemicals in laundry detergent and hand soap. For us, when we stay in an Airbnb we love a good smelling hand soap. To avoid problems, provide a well-scented handsoap but have unscented as a hidden backup. Unscented also ensures anyone can use the soap.
---
Place To Hang Extra Clothes and Towels
We always place a hanger either on the back of the bathroom door or get creative on the bathroom walls. Remember, no guest wants to step too far out of the shower just to grab their towel. Make sure your hangers are a well-designed masterpiece.
For a larger bathroom (more guests), drying racks may be filled or slow drying. In this case, we use a double rail rack.
---
At The Very Least Provide Shampoo
On the Airbnb amenities page for your listing, it only includes shampoo. Supplying anything more such as conditioner and body wash is up to you. Guests normally travel with small sample-sized shampoo bottles, but for longer vacations, they may want to refill.
Our favorite amenity tip which makes your Airbnb bathroom look luxurious and costs less is to use a wall-mounted dispenser in your shower. You can keep shampoo, conditioner and body wash in the dispenser and it looks great in any bathroom.
---
Bathroom Floor Mat For No Accidents
The last thing you want is for your Airbnb guests to slip. When wet, bathroom floors get slippery and a floor mat will absorb excess water. Furthermore, you will save years of water damage by using a floor mat and that will save you money in replacement costs.
If your bathtub or shower floor is in the same condition, place a shower mat down. Be sure to get floor mats that are washer friendly.

---
Somewhere To Throw Garbage Out
Each country has different cultures and standards. In some countries, recycling doesn't exist. All our Airbnb guidelines mention where guests can throw out garbage and recycle.
Furthermore, we always place instructions on the toilet bowl lid explaining what you can and can't flush. Many guests flush unwanted items down the toilet which can clog it.
Our time-saving tip is to place extra garbage bags at the bottom of each trash can, which prevents you from forgetting and speed up your cleaning process.
---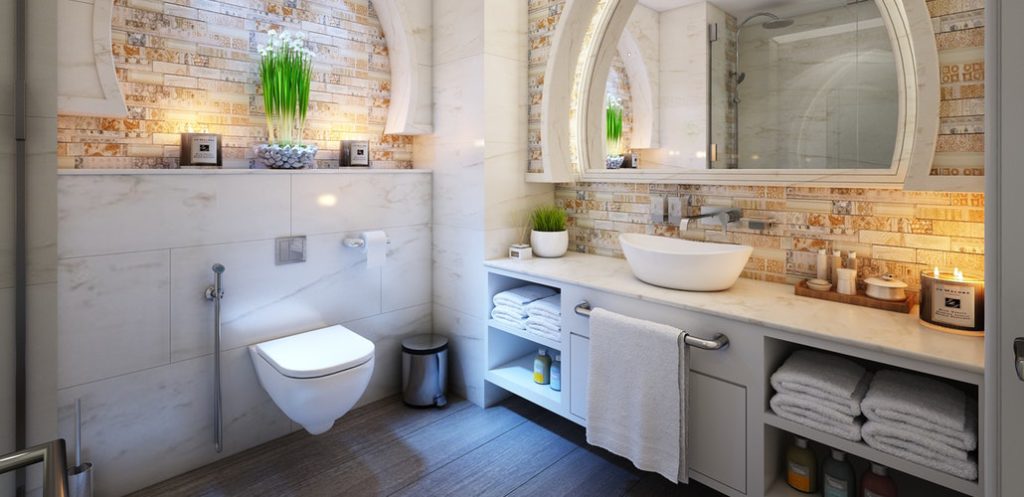 ---
What Are Optional Airbnb Bathroom Items?
---
Keeping Your Airbnb Bathroom Clean
Even if your Airbnb guests start with a clean place, they may accidentally spill something or want to tidy up a bit.. Give them that option with a broom, dustpan, and all-purpose cleaner.
You would be surprised at how many guests clean during their stay and make your checkout cleaning faster.
---
Makeup Remover So Your Towels Stay Unstained
One of our first bad Airbnb experiences was having our guests wipe their makeup on our brand new white towel. Since then makeup has ruined a few more towels but providing makeup remover wipes will limit these events.
Furthermore, makeup can ruin bedsheets and much more. Tuck extra makeup remover pads under your sink or your bathroom shelf.

---
Mosquito Repellent For The Outdoors
If you live in a country where mosquitos are common then leave some repellent for common courtesy.
---
First Aid Kit & Common Over The Counter Medication
Travelers love to try new places and food, which could result in a minor injury or an allergic reaction. We stock all our Airbnb listings with a standard home first aid kit and Tylenol for headaches.
---
Mirror For Getting Ready
Whether your Airbnb guests come for work or a vacation, make sure your guests can do their makeup, put in contacts, or anything else their day/night entails. We have never been to an Airbnb or hotel without a bathroom mirror.
However, having a mirror without adequate bathroom lighting is far too uncommon. One of our favorite tips to improve lighting is by increasing the wattage of your bathroom bulbs. Another option is installing a bathroom mirror with a backlit included.

---
Shelving Unit For Extra Storage
Finding an organized spot for extra bathroom supplies can be tough, especially with a small bathroom. During longer guests stay, a shelving unit is perfect for extra toiletries.
For us, in most bathrooms, we see two spots of extra storage space. First, either under the sink with a vanity cabinet and second, above the toilet with a cabinet or wire shelf. Both of these methods can also double as a place for your Airbnb guests to store their personal bathroom belongings.
---
Unique Ventilation Option In Your Airbnb Bathroom
Having a good exhaust fan will prevent mold, keep your bathroom smelling fresh and lengthen the condition of your overall bathroom. We bet you have never heard of an exhaust fan that plays music. Neither had we until recently. We stayed at an Airbnb that had a Bluetooth speaker built into the exhaust fan allowing us to play music while showering. It was fantastic.

---
Toilet Plunger In Case Of Emergencies
No guests want to tell you they plugged the toilet. Furthermore, no host wants to unclog a toilet. It makes for a very awkward conversation. Tuck a plunger behind your toilets.
---
Check Out These Other Articles On Airbnbuniverse.com
---
Box Of Tissue Paper
You never know if your guests will have allergies, catch a head cold or even the flu. Leave a box of tissues on top of the toilet.
---
Drying Rack For Clothes & Towels
Whether your guests just got home from the beach, exercised, or just don't want their clothes to shrink in the dryer. Give your guests the option to dry everything freely. Furthermore, if your Airbnb listing is limited for the room, a collapsible drying rack works perfectly.

---
A Complimentary Hair Dryer
Having a hairdryer in your Airbnb bathroom is inexpensive and guests expect you to have one. We hang our hair dryers on the wall with a hanger clip or place it on our toilet wired shelves. Both are great ways to save room and hassle. My wife does the purchasing for the bathroom and buys affordable Revlon hair dryers.
---
Nail Polish Remover
On-top of removing nail polish, it is also great at cleaning up leather shoes, getting rid of ink stains, and cleaning minor scratches off your watch face.
---
Outlet With A Motion Sensor Night Light
The night light will guide any Airbnb guests on their first-night stay. Place one in the bathroom so your guests do not have to turn on any lights. For us, we also leave one plug-in nightlight in all our hallways and bathrooms which leaves a great impression for all our guests.

---
Tampons For Emergencies
Tucking a few of these under the sink can save someone's day while they search for a drugstore.
---
Airbnb Bathroom Airbnb Freshener
Being comfortable around your spouse can mean many things. One is the bathroom has no limits. A simple bottle of air freshener or outlet plugin freshener is appreciated.
---
What Are Airbnb Toiletries?
---
Airbnb toiletries are personal care items used for hygiene or grooming. Supplying toiletries to guests will increase their overall experience. Here is a list of some of the items we include in our Airbnb bathrooms:
Toothbrushes (unopened)
Toothpaste
Mouthwash
Floss
Toothpicks
Hairdryer
Towels
Hand towels
Bar soap
Liquid hand soap
Q-tips
Cotton balls
Toilet paper
Air freshener
Bathrobe
Feminine products
Disposable razors
Shaving cream
Aftershave (basic scent)
Shampoo
Conditioner
Scent-free hypoallergenic body lotion
Shower caps
Combs
Nail clippers
Nail file
---
Final Thoughts
Airbnb bathrooms can be confusing, especially when you have limited space. We have talked about ways you can improve your Airbnb and our top tricks we used in all our bathroom listings. You will be able to put all our suggestions together and impress any guest. Enjoy and happy hosting!