Airbnb smart pricing is loved by some hosts and hated by others. On one hand, your booking rate will increase, but on the other, the company adjusts your nightly price lower to get you more bookings.
Don't worry, there are ways to get as much as you can for your listing while using this tool. In this article, we will discuss how to set up Airbnb smart pricing and everything you need to know for maximum profits.
Here are our recommended tips if you choose to turn on Airbnb Smart Pricing:
TIP #1 – Make sure you set your minimum Airbnb smart pricing higher then what the company suggests (research your area for price comparison).
TIP #2 – Manually adjust specific date prices for major events, weekend pricing, peak seasons or attractions that bring people to your city.
TIP #3 – If you are 85% booked beyond 30 days, gradually increase your minimum Airbnb smart price. Chances are you set it to low.
TIP #4 – Do some research to find out what other hosts are charging and set your price accordingly instead of the companies suggestion. Remember to search in incognito mode.
---
What Is Airbnb Smart Pricing?
Airbnb smart pricing is an automatic price adjustment based on over 70 different factors. With smart pricing, the host sets a minimum and maximum price for their listing and it will change according to the demand in your area.
---
What Can Airbnb Smart Pricing Do?
Update your price closer to available dates to increase bookings
Increase your listing price if more guests are clicking through to your listing or searching your area
Adjust your price during high and low season
Compare the amenities you offer and update your pricing
Promote your listing due to smart pricing
Increase your price with positive reviews
TIP #1 – On top of this tool, add Airbnb instant booking for better algorithm results
---
Should You Use This Tool?
If you can't be bothered to adjust your listing price for high/low season or stay updated with the events in your area then Airbnb smart pricing might be for you.
Furthermore, if you stare at your calendar for hours pondering the price then turn on this tool. Let the algorithm change everything for you.
---
What Does Airbnb Smart Pricing Affect?
When you enable Airbnb smart pricing it doesn't change how much you charge your extra guest fees, cleaning fees, weekly discounts or monthly discounts.
With smart pricing turned on, your weekend nightly prices will be voided and will charge your minimum price set by you.
---
How Do You Turn On Airbnb Smart Pricing?
---
Turning On – Step 1
Log into your Airbnb account. Next, on the top, click on the "Host" tab where a drop-down menu will appear. Scroll down until you find Listing and click on it.
On your Airbnb homepage, click the "Host" tab at the top where a drop-down menu will appear. Scroll down until you see "Listings" and click on it.
---
How To Turn On – Step 2
Under Listing, click on the "Pricing" tab which includes your Nightly price, discounts, extra charges, and currency.
Within Pricing, scroll down until you find "Nightly Price" and click on the edit button on the right side.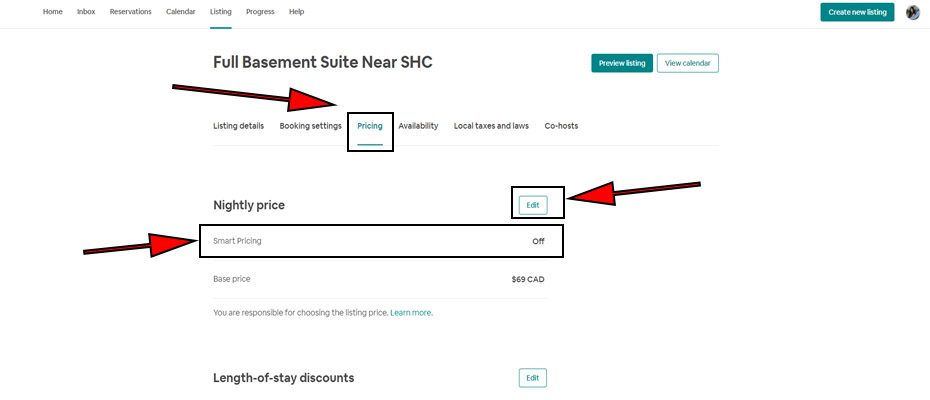 ---
How To Turn On – Step 3
Under Nightly price, you will have to turn Airbnb Smart Price on in the top right. Next, set your minimum and maximum price and don't forget to click save at the bottom.
TIP #1 – Make sure you set your minimum higher then what Airbnb suggests.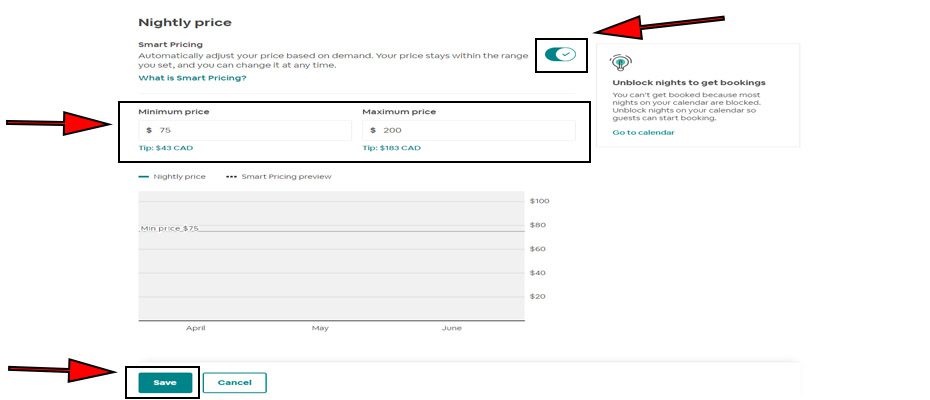 ---
Check Out Other Articles On Airbnbuniverse.com
---
Final Thoughts
This tool is a great way to maximize your revenue if you do it right. Some features are great while others are lacking in concept.
After reading this article we hope you give smart pricing a chance and remember to set your minimum far higher than the recommended amount.