What happens if your guest loses a key or forgets to return a key to your lockbox? Hiring a locksmith is expensive or even worse, your Airbnb listing might be vacant for a few extra days. By using our best smart locks for Airbnb, you can eliminate these problems.
You can track when a guest arrives. Flights or travel plans are constantly late or changed last minute. With your Airbnb smart lock, you can see when a guest arrived safely.
With your smart lock, you can also give remote access to your guests, cleaning services, or even friends from anywhere in the world!
Not all guests want to meet the host in person. I personally prefer not to. With your Airbnb smart lock, you can give access to your listing without having to check anyone in personally. Plus it saves you time physically having to travel to meet each guest.
If you let guests check in themselves, your listing will feel more inviting right away. It's more like it's your guest's home instead of an Airbnb. This will lead to better reviews and more booking/profit.
In this article, we will be covering the best smart locks for Airbnb in 2021 and go over all the reasons why we chose them. Let's get started!
---
Trouble Shooting
Not all doors will be the same. The most common problem with all these smart locks mentioned below is the door hole sizes. You may or may not have to drill bigger holes in your doors.
Drilling a 2 1/8″ diameter hole is the most common problem during installation. To do this we would recommend a specialty tool "Dewalt Metal Door Lock Installation Kit" which makes installing the smart locks much easier.
---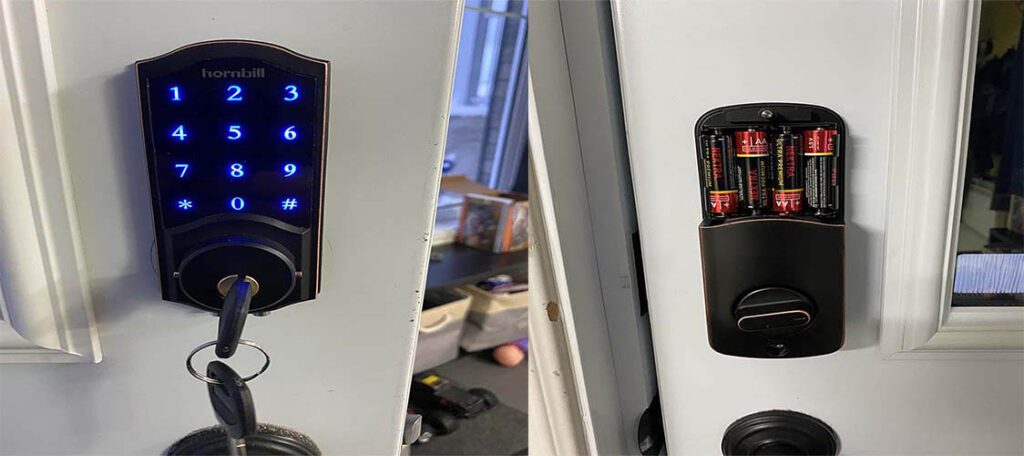 Out of all the Airbnb compatible smart locks, this one has one of the best reviews on Amazon. The company continuously improves its smart lock versions and is overtaking the market by storm.
They provide keyless entry with their keypad, Bluetooth smart locks with Alexa, and digital code lock for Airbnb and most other vacation rental hosts. Keep in mind everything is improving with every upgraded version.
Rating on Amazon: 4.1/5 Stars
Cost: $120
Product Highlights
You are able to use passcodes or mobile phones to open and close the door. Furthermore, you can check the unlock record or wrong password record in real-time.
You can customize passwords for cleaning services or one time passwords for visitors or passwords for the extended period of your guest's stays.
The mobile app displays the battery information and lets you know when you need to change the batteries. Furthermore, this smart lock is equipped with an auto-lock function so you don't have to remember if you locked your door or not.
You can use a key, the mobile app, or the touchscreen to unlock the door.
Pros
Easy to program
Easy to Install
Looks great
Cons
Some new installation batteries don't last long
Numbers only light up when you touch the screen
---
2. Smonet Smart Deadbolt Lock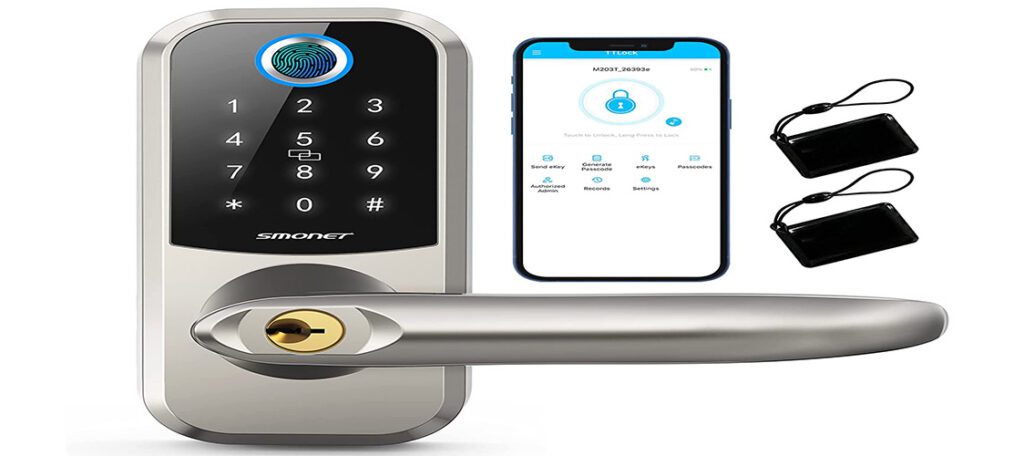 The look is very modern with a silver body and black touchpad. It was one of the most minimalist looks on our best smart lock for Airbnb list.
We had some issues with the shipment before and their customer service is amazing. One of the many reasons they made it on our list. A company that stands behind its product is usually a great one.
After the shipment issues got resolved the product was very simple to install. You will most likely need to drill a new hole for the smart lock but you get a drill bit and template to do it effortlessly.
Rating on Amazon: 4.5/5 stars
Cost: $206
Product Highlights
Open the door with 7 methods: a smartphone app, passcode, fingerprint, Bluetooth, IC card, Wifi Gateway, or mechanical keys. This Smart Lock works with Alexa, Apple Watch and is compatible with Airbnb
You can set the IC card per lock or one IC card that can unlock all smart locks in your Airbnb listing (if you have more than one)
By using the TTLock App or Sciener App, you can give remote access to your guests, friends, cleaning service, or any employees.
Furthermore, you can create permanent, one-time access, or customized passcodes from anywhere in the world. Generate up to 500 times.
Pros:
The direction of the handle can be reversed after installation. Can be a left or right facing handle.
Easy to install
Comes with a 1 year product warranty
Imperfections are handled exceptionally by customer service
Cons:
Have to drill a new hole for the lock
---
August Smart Lock Pro + Connect WiFi Bridge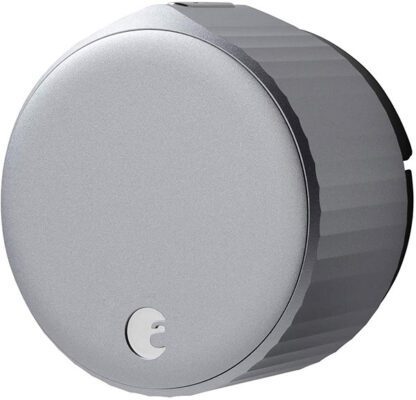 August smart locks are one of the best ones for Airbnb listings. They allow you to integrate with the Airbnb calendar which allows you to give remote access automatically to guests, cleaning services, or anyone you trust.
The reason we like the August smart lock is its auto-lock/unlock feature. If you are nervous about guests remembering to lock the front door or after they check out. Then this is one of your best choices.
This smart lock is by far the most advanced but also comes with a higher price tag. With that said, it works with HomeKit, Z-Wave, Alexa, Google Assistant, and Airbnb
If you aren't very tech-savvy, then the August home app has a full tutorial on how to install this smart lock and connect it with your phone.
Rating on Amazon: 4.5/5 stars
Cost: $156
Product Highlights
We found this smart lock very easy to install. With a few screws and adapters, you can fit it to any door.
This lock works with both Z-Wave and HomeKit based smart home systems. With the Airbnb integration, guests will be invited to download the app which will give them remote access for the duration of their stay.
After you download the app, you can monitor if the door is open/closed, what time anyone entered or exited your Airbnb, and get notified if someone accessed the lock without being scheduled.
Pros
More features with this smart lock
Auto lock and unlock when entering and exiting
Monitoring your Airbnb door activity
Cons
Works better in hotter climates if you are installing outdoors
---
Yale Security Assure Smart Lock
The Yale Assure Lock is pretty much a smart deadbolt lock. Essentially a touchscreen deadbolt made by Yale and August technology.
One of our favorite features with this Airbnb smart lock that not all the other locks had is a notification on when the battery is low.
Furthermore, if you do not change the batteries in time, you can use a 9v battery underneath the lock to power it long enough to open the door.
The Yale Assure also replaced the existing deadbolt. It offers voice guidance and a backlit touch screen which helps guide your guests who aren't good with technology
Rating on Amazon: 4.6/5 stars
Cost: $232
Product Highlights
The best feature of this smart lock is it allows you to assign a unique access code for your guests and can revoke/change it at any time. Say your guest cancels last minute, then you can cancel the guest code instantly.
Yales assure smart lock allows you to create custom access codes for each guest. From the app, you can change, limit or cancel access codes at your own will.
On the inside, your guests are able to physically disable the smart lock if they want to feel secure, plus the tapered deadbolt design so even if your door isn't perfectly aligned, chances are it will work for your door.
Pros
You can plug in a 9V battery if the existing batteries die and you are locked out
Easy installation
Cons
Normally have to use a 2-1/8″ hole
---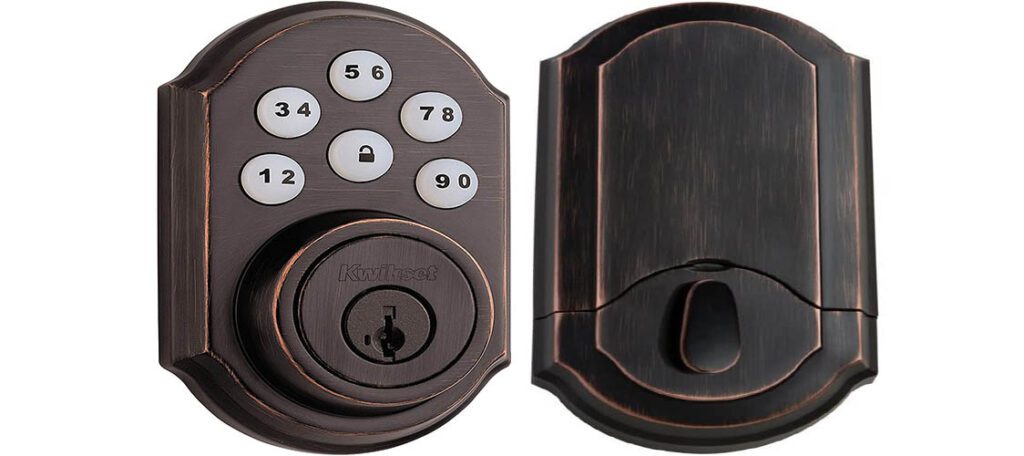 This is the most basic Airbnb smart lock on this list. It simply is a good deadbolt lock, has multiple programmable codes, and has a keyed entry.
You are able to lock or unlock your door from anywhere in the world with your phone as long as you have Z-Wave support.
Out of all the Z-Wave locks, I find this one the easiest to install and set up. A great feature is that the Kwikset smart lock allows you to rekey a physical key to the rest of your locks.
You can assign up to 30 passcodes for guests, friends, or cleaning services and lock the door with a touch of a button
Rating on Amazon: 4.6/5 stars
Pros:
Easy to install and is a simple design
Can program multiple codes
Built with quality
Cons:
Battery that come with the device don't last as long as new ones
---
What Are Some Benefits Of Using An Airbnb Smart Lock?
You can automatically send passcodes to your guests through Airbnb booking and messaging system. Saves you time manually doing this task.
Saves you time meeting all your guests in person for check-in
If a guest cancels last minute, you can revoke access to your listing
Update you instantly when your guests check in/check out. Also update you when the door is open and closed.
Improves security for your Airbnb listing. No more guests forgetting keys or locking them inside or replacing lost keys.
No keys to keep track of.
Higher reviews with a flawless check-in process.
What Are Some Disadvantages To Using An Airbnb Smart Lock?
Reusing the same passcode for the Airbnb might make certain guests uncomfortable. Sending a short message saying "Here is your unique passcode" and base it off their last 4 digits phone number eliminates this.
Possible mechanical failure and if your Airbnb smart lock doesn't have a physical key or backup plan then your guests could be locked out of your Airbnb listing.
Reliance on phone app and network connections. Unless you place a key lockbox as a backup
If you pair your Airbnb smart lock up with a security camera. You can be notified when some sort of gather or party is going on in your listing. It will also work as proof for an Airbnb damage claim
Here is a list and link to our favorite Airbnb smart locks in 2021 listed above:
Conclusion
As an Airbnb rental host. You want to ensure that both you and the guest have a secure place to stay. By installing an Airbnb smart lock it will give you more control of your listing remotely and you don't have to physically check in every guest which allows you to focus on other aspects of life.
With a guest, it makes their check-in process 10 times easier. They get sent the access codes automatically and your guests can feel relaxed faster which ultimately improves your reviews.
The best smart locks for Airbnb that I mention above are our top picks for 2021 and will do wonders for your listing. If you haven't read out "Ultimate kitchen essentials guide" we recommend that for our next blog post.